An exceptional environment to make your seminar successful
At the PACCARD museum you'll find what you need in an exceptional environment. In the "Françoise Paccard" space you can choose the set-up of the room depending on the type of gathering you want organize. (auditorium, workshops, concerts…) It is equipped with high technology material and is a reference as far as organization of visio conference, general meetings, team buildings or any other kind of events are concerned.
Auditorium – 140 seats

(120 m2, equipped with a AHU – Air Handling Unit with permanent air treatment, renewed from outside = 100% "new" air)
Giant screen

Beamer (500 lumens – 4K)

Mobile flat screen 75 "

(ideal for remote and videoconference)

Professional sound system (4 microphones and mixing board)

Wifi + very high-speed Internet (fibre-optic Internet)
Capacity up to 200 persons
Daily cost : as from 25 euros pp
Evening or week-end : contact us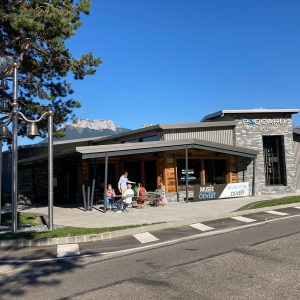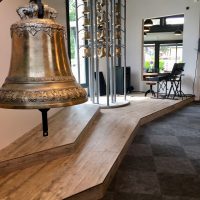 Whatever the configuration required for your event (workshop groups, U-shaped table, circle, amphitheatre, etc.), we adapt to your needs.
Thanks to its air handling unit (AHU), you will benefit from an optimal temperature in all circumstances, and permanent air treatment, as the air is renewed 100% from the outside.
Depending on your wishes, you can enhance your seminar with services that will make your event unforgettable.
Personal welcome at PACCARD Museum (breakfast menu, coffee croissant, …)

Customised Visit of Museum and Workshops Guided Tour of PACCARD Foundry.

When the Paccard Family reveals the secrets of an ancestral know-how… Disover the profession of master casters, its history, its manufactering tools.

Bell casting (only on Thursday)
NEW ! – PACCARD Museum now offers, as part of its VIP Visit, a tasting of local products (tomme, reblochon, sausage et local wine) in the warm atmosphere of its tea room « AU PACCARD GOURMAND »
Our "themed partner workshops"
Federating, thanking, motivating, animating; PACCARD Maison faces the challenges of any company. If our challenges are your challenges… our solutions can become your solutions!
Within the framework of our events offer, we are keen to introduce you to our partners with high added value. They can enrich your events with relevant thematic workshops. Let's talk about it !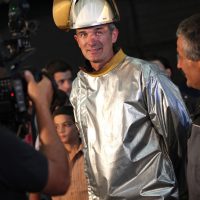 PACCARD Museum has a tea room and two terraces – one of which can be privatised – and offers you its services including breakfast, welcome with coffee and croissants, lunch, dinner or even an aperitif to share with your teams moments of conviviality and well-being outside the usual working environment.
The "Françoise Paccard" space is ideal for your team buildings, general meetings, videoconferences, product presentations or private events…
We also offer original services that will give a special touch to your event and put at your disposal our network of partners and local service providers with whom we share a passion for the job and a love of work well done.
If you would like more information about our services or a quote, please contact us by e-mail : musee@paccard.fr , by phone : 04 50 52 47 11, or come and discover our spaces on site. We will be delighted to find out about your project and what we can do to help you organise it according to your wishes.
They trust us : THÉSAME, Gîtes de France, POISSON, AVF, (Annecy), SATIL, DYNABUY Annecy, Le Petit Futé, POLE EMPLOI…