Not so long ago there were times when bells were casted directly on the place they were meant to stay, as they were heavy and not easy to carry. A pit was digged by the bell founder at the bottom of the building hosting the future bell. Bell mold was buried in the pit, and later, a crowd gathered on the casting day to watch the process leading to the birth of their bell which would be ringing during centuries and be the voice echoing their joyful or painful moments.
With the industrial revolution, and most particularly the development of the railway, bell founders stopped being itinerants to become sedentary, this leading to the almost total disappearance of the on-site bell castings. Nowadays thanks to the PACCARD Museum and Foundry, this secular tradition has been reestablished.
A legacy for the future generations
Nowadays all our customers are warmly welcome to attend the casting of their bell at the foundry. It is often a priviledge however as it is not always easy to come for a customer or a whole community to come and attend this spectacular event.
This is why the PACCARD company decided to get this seculary tradition revived. On top of that we are doing our utmost so that such event should be an unforgettable one, far beyond the only bell casting itself.
On the day of the event, we put our musical, educational and technical know how at your disposal so that everybody can share moments which shall remain engraved in the collective memory.
There are many occasions to organize an unforgettable on-site bell casting event : village fair, twinning between two cities, setting of bell ringing, carillon or Ars Sonora®…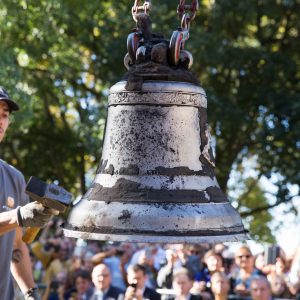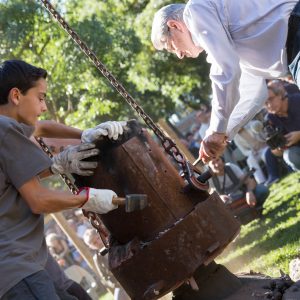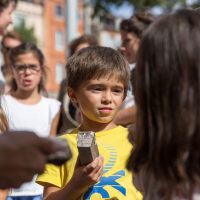 A bell casting is and has always been an amazing show : fascination when watching the molten metal process as a result of an ancestral craftmanship being the link of a return to the roots.
Bronze is made of 78% copper and 22% tin. It is melted until temperature of more or less 1200° Celsius is reached, then poured in a mold made of two parts: an internal mold being the the empty part inside the bell and an external mold on which all the inscriptions and decorations that will appear on the bell are written and engraved inside out and in hollow.
The real birth of the bell is the step after when the internal and external molds have been charred by the molten metal and taken out of the now cooled bell which then can appear in the eyes of everyone for the very first time.
MO

TU

WE

TH

FR

SA

SU
27

28

29

30

1

2

3
4

5

6

7

8

9

10
11

12

13

14

15

16

17
18

19

20

21

22

23

24
25

26

27

28

29

30

31
1

2

3

4

5

6

7
Events for
1st

December

No Events
Events for
2nd

December

No Events
Events for
3rd

December

No Events
Events for
4th

December

No Events
Events for
5th

December

No Events
Events for
6th

December

No Events
Events for
7th

December

No Events
Events for
8th

December

No Events
Events for
9th

December

No Events
Events for
10th

December

No Events
Events for
11th

December

No Events
Events for
12th

December

No Events
Events for
13th

December

No Events
Events for
14th

December

No Events
Events for
15th

December

No Events
Events for
16th

December

No Events
Events for
17th

December

No Events
Events for
18th

December

No Events
Events for
19th

December

No Events
Events for
20th

December

No Events
Events for
21st

December

No Events
Events for
22nd

December

No Events
Events for
23rd

December

No Events
Events for
24th

December

No Events
Events for
25th

December

No Events
Events for
26th

December

No Events
Events for
27th

December

No Events
Events for
28th

December

No Events
Events for
29th

December

No Events
Events for
30th

December

No Events
Events for
31st

December

No Events