Watching a bell casting is fascinating. When you see the molten metal it is like entering a magical world. Every year, between 300 and 500 bells are casted at the PACCARD Bell Foundry and sent all over the world. When visiting the PACCARD Museum you are invited to go behind the scene of the company and literally watch the birth of a bell.
A testimony for the future generations
A bell casting is the very moment when, like molten lava, metal becomes alive and a bell is created. A bell is a musical instrument as such.
Metal used for that is a specific bronze named brass or bell bronze. It is made of 78 % copper and 22% tin. It is melted and a control is done when reaching the 5th heating hour.
Next step is pouring the molten bronze in the bell mold once temperature reaches between 1030 and 1230 Celcius degrees. Gas fire gets out through blowholes as a result of the air combustion in the mold.
One public bell casting takes place every Thursday during the Discovery Tour. You are kindly requested to book in advance as number of (standing) places is limited.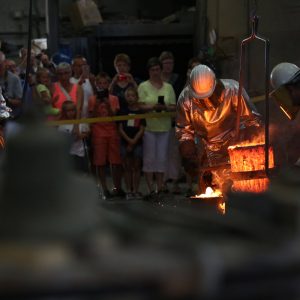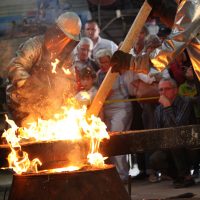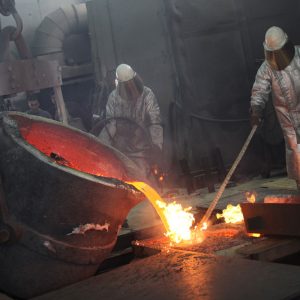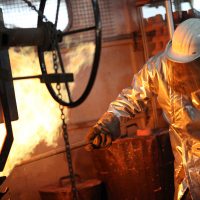 The PACCARD Bell Foundry is well known all over the world for its perfect mastering of bell profiles and its making of prestigious bells; (the Savoyarde / Sacred Heart Basilica in Paris – the Joan of Arch / Our lady Cathedral in Rouen – the World Peace Bell / a 33 tons bells ordered by an American Billionaire for the 3Rd millennium – the Liberty bell, to name but a few…)
Therefore , orders of exceptional bells weighing several tons, named "Bourdons", are regularly issued.
If you want to be informed about those exceptional bell casting, and, why not, be able to come and watch them, you can fill in the "friends of Paccard Museum" form and join our network. Kindly bear in mind that you have to book quite in advance for an exceptional bell casting as the number of seats is limited.
MO

TU

WE

TH

FR

SA

SU
27

28

29

30

1

2

3
4

5

6

7

8

9

10
11

12

13

14

15

16

17
18

19

20

21

22

23

24
25

26

27

28

29

30

31
1

2

3

4

5

6

7
Events for
1st

December

No Events
Events for
2nd

December

No Events
Events for
3rd

December

No Events
Events for
4th

December

No Events
Events for
5th

December

No Events
Events for
6th

December

No Events
Events for
7th

December

No Events
Events for
8th

December

No Events
Events for
9th

December

No Events
Events for
10th

December

No Events
Events for
11th

December

No Events
Events for
12th

December

No Events
Events for
13th

December

No Events
Events for
14th

December

No Events
Events for
15th

December

No Events
Events for
16th

December

No Events
Events for
17th

December

No Events
Events for
18th

December

No Events
Events for
19th

December

No Events
Events for
20th

December

No Events
Events for
21st

December

No Events
Events for
22nd

December

No Events
Events for
23rd

December

No Events
Events for
24th

December

No Events
Events for
25th

December

No Events
Events for
26th

December

No Events
Events for
27th

December

No Events
Events for
28th

December

No Events
Events for
29th

December

No Events
Events for
30th

December

No Events
Events for
31st

December

No Events